Food Processing
Seneca Foods produces an exceptionally wide portfolio of food products more efficiently and with fewer imperfections than our industry competitors. In addition to our core business of packaged fruit and vegetables, our product portfolio includes snack chips, sauces, gravies, natural colorants, and more.
Our food processes include: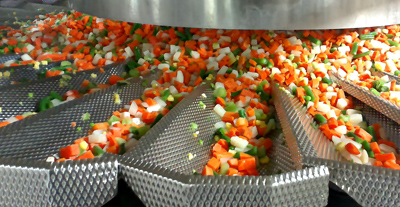 Frozen
Hot fill
Continuous cooking
Still retorting
Vacuum frying
We also offer a multitude of packaging options:
Steel cans of all sizes
Plastic and glass bottles
Single-serve cups and bowls
Pouches and trays
Frozen Poly bags
Bulk containers
On the factory floor we employ sophisticated systems for quality control, thermal processing, testing procedures and grade specifications to ensure our manufacturing is among the safest and most efficient in the world. Our comprehensive standards align with multiple industry-leading food safety initiatives.
No detail is too small for us. We have optical sorters that can remove a single kernel of corn that is less than ideal for packaging. Our supply chain uses a specially tailored system of software to ensure we label and ship orders in five working days or less. The efficiency of scaling our efforts allows us to optimize inventory management and pass the savings along to our customers.
Read more about our quality controls here or read about our commitment to responsible food processing on our sustainability page.
Contract Manufacturing
Seneca offers a variety of contract and co-pack opportunities for industrial customers. Our wholly owned subsidiary, Truitt Bros. Inc., expands our expertise in developing new product concepts and recipes, and bringing them through to production and distribution. We are able to service both small volumes requested by growing entrepreneurial companies as well as much larger volumes.